CivicPlus Pay and CivicRec have the ability for cross-gateway processing. This means that when a card is saved on one merchant account, it can be used for transactions on different accounts. This does not mean that your payment gateways with Authorize.net are also configured in this manner. With Authorize.net, you will need to be careful of how you set up your account(s) in order to avoid processing issues.
Cards-on-File
If you have more than one account set up with Authorize.net and these are completely separate, you will not be able to process cards on file without running into issues.
For example, Emily signs up online for a recurring monthly membership. She opts in to be billed once a month for her membership. Her card would be saved in the Customer Information Manager of the eCommerce account.
When CivicRec is instructed to bill Emily's card internally, it will process it against the retail account. However, since these two accounts are separate, Authorize.net will not be able to find the card and will decline the transaction.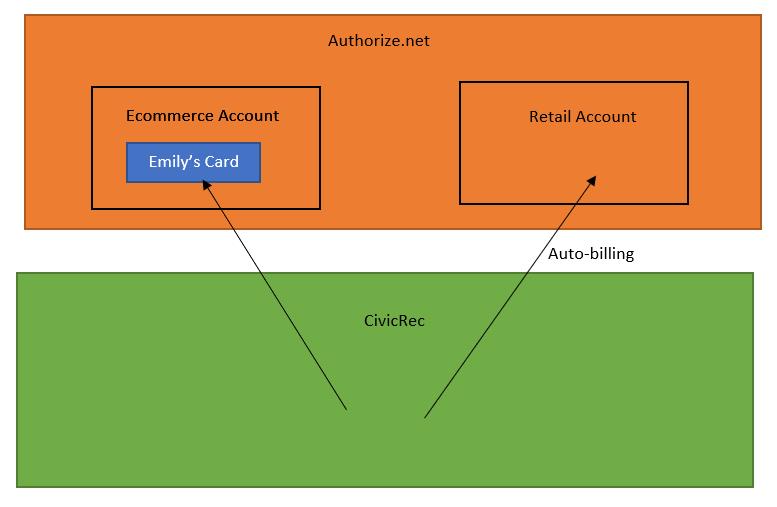 Blended Accounts
It is possible to set up one account with Authorize.net to be used for both eCommerce and retail transactions. This completely eliminates the issue above.
See their documentation for more information.
If you already have cards-on-file, you may be able to do a partner-to-partner transfer. You will need to work with your merchant services provider to see if this is a possibility for you.
If you still need help setting up your accounts correctly, our partner, Bank Card USA, can help. Contact your customer success manager or implementation consultant to get started.